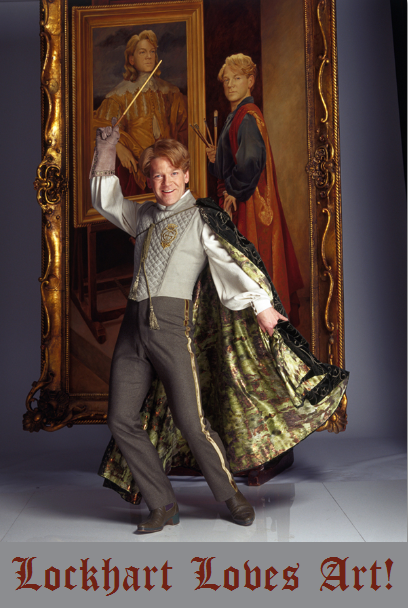 Lalalalala! Gilderoy Lockhart here! Guess what I love, almost as much as myself?
ART! I <3 <3 <3 ART! Go find me some art, as gorgeous as I am.
Which brings us to Monday Madness Game Two!
The LOCKHART LOVES ART SEARCH
How to Play Art Search
Go to the
Severus/Hermione Exchange
.
Find TEN art entries (Ten is a perfect number, and I'm a perfect gentleman).
Review those art entries.
Copy the links to your reviews in the form provided below.
Submit the form as a comment to
this entry
by 11:59 pm EST (New York, USA) Wednesday, January 23rd.
Pretty easy, right? Which suits, because I'm easy (on the eyes) and pretty sensational!
Don't you agree?
Lockhart's Art Search Form
(be sure to CRTL-A after clicking inside the box to get the complete form).
If there is more than one correct entry, winner will be determined by
random thing picker
The winner of Monday Madness Game Two will be announced on Monday, January 28th.
Have fun hunting
wabbits
artses!
Do you know what a good reviewer looks like?
Llama wasn't sure, until Banana showed her a Favorite Reviewer Nomination:
Ticky Box writes the best reviews. Box always points out favorite quotes, how the story made it feel and points out the little details that make a writer feel appreciated and heard.
Do you know what a favorite reviewer looks like? Don't be shy,
go nominate them!
Then
Tell Your Friends!
Play
Queen of Reviews!
Claim
An Early Bird Bingo TODAY
(it's the last day!)
And have lots of Fun!
Tags: game two, monday madness
Current Location: Center of the Universe, population:Me
Current Mood: enthralled (with myself)
Current Music: I'm in the Mood for Art, Simply because you adore me