First, if you haven't heard - this is probably the last exchange.
So
Tell Your Friends!
Read
the Introduction
and the
FAQ if you're new!
Get
Some (More) Cards!
Play
Queen of Reviews!
Help
Make This the Best EB Yet!
(we need Prize volunteers in all categories)!
And have lots of Fun!
Which brings us to Monday Madness Game One!
WORD SEARCH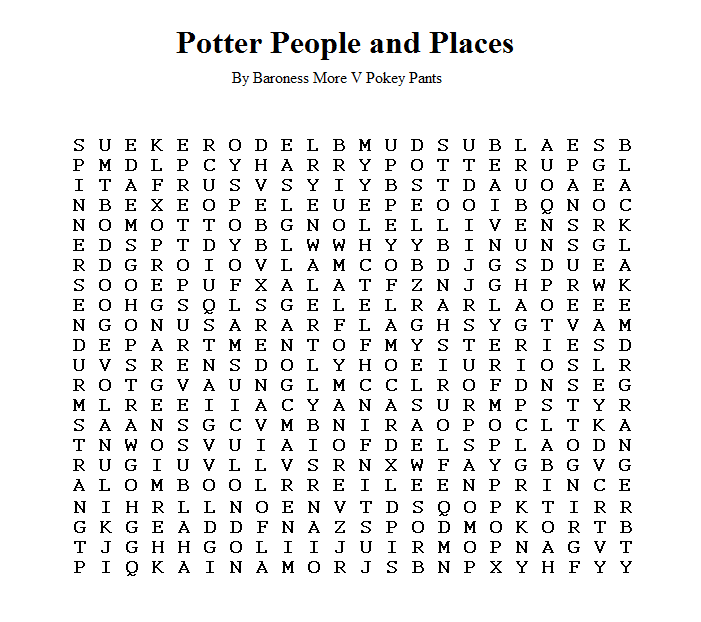 How to Play Word Search
In the puzzle above, you will find thirty-three Harry Potter character or place names (canon; book and interview).
For ten of those characters and locales, find a story or art that features them. Don't worry, we start you off with three "freebie" (easy to find) names.
Review that story or art.
Copy the character/place name and the link to your review in the form provided below.
One link per character or locale, Please do not use the same review more than once.
Submit the form as a comment to
this entry
by 11:59 pm EST (New York, USA) Wednesday, December 19th.
Word Search Form
(be sure to CRTL-A after clicking inside the box to get the complete form).
If there is more than one correct entry, winner will be determined by
random thing picker
The winner of Monday Madness Game One will be announced on Monday, December 24th.
Have fun hunting
wabbits
words!
Do you know what a good reviewer looks like?
Llama wasn't sure, until Banana showed her a Favorite Reviewer Nomination:
Ticky Box writes the best reviews. Box always points out favorite quotes, how the story made it feel and points out the little details that make a writer feel appreciated and heard.
Do you know what a favorite reviewer looks like? Don't be shy,
go nominate them!
Tags: game one, monday madness, word search